The pivoting consumption trend of bottled tea over loose leaves for Japanese Tea in the Japan market meant that Tea Farmers were gradually seeing a loss in income. Focus was placed to boost the consumption of Japanese tea in Singapore to support the demand of tea leaves from Japanese tea farmers via an educational Landing Page .
Besides sharing about the various types of teas available and extensive benefits of Japanese tea on mind and body, the page also includes a simple guide to brewing a good pot of tea.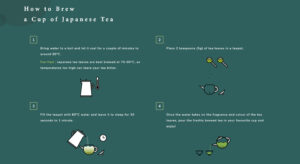 Read on to learn more about how we supported the promotion of Japanese Tea in Singapore, and explored an interesting AI service at the same time!