[UPDATE] Hosted on 30th June 2021, the Asahi Broadcasting Group Regional Development Seminar was an insightful discussion led by a panel of 4 brilliant individuals from Japan National Tourism Organization (JNTO), Japan External Trade Organization (JETRO), and ABC Horizon Pte. Ltd.  The session was jointly participated by almost 300 members of both private and government sectors.
We are heartened by the turnout and grateful for the support of all participating parties. For those who missed the hour-long session, the post-seminar recording can still be accessed on YouTube here .
——–
The Covid-19 Pandemic has taken its toll on many businesses across all industries – no country is spared. The Japanese society is exhausted by the after-effects of the pandemic, with many local governments forced to focus only on inward-looking policies this period Looking back on pre-pandemic, Japan's inbound industry was booming at an unprecedented rate under the government's efforts of attracting 40 million annual overseas tourists. Now, we are left to wonder: Will that enthusiasm return in the post-pandemic era?

On the other hand, while domestic consumption has been slow to recover, it has been noted that the high quality of Japanese agricultural, forestry, and marine products and foods is being reassessed with a renewed appreciation overseas. 19 state of affairs, many local governments are strengthening their outbound strategies, focusing on local products export.
In addition to diverting focus onto overseas export, some municipalities have also begun to support local startups in their overseas expansion and, conversely, to attract overseas startups into their markets. At a time when Japanese society as a whole is suffering from the pandemic, it is essential to rebuild inbound and outbound strategies in preparation for the post-pandemic recovery phase.
This seminar will feature discussions by Ms. Hatsume Nagai, Director of the Japan National Tourism Organization (JNTO) Singapore Office, which works to attract tourists from the Singapore market, and Mr. Eiji Hisatomi, Director of the Japan External Trade Organization (JETRO) Singapore Office, which supports local governments and small and medium-sized enterprises in their expansion into Southeast Asia. In addition, ABC HORIZON , the Singapore office of Asahi Broadcasting Corporation (ABC) , which has a proven track record in supporting local governments and companies in their Southeast Asian strategies, will propose new inbound and outbound strategies it will be focusing on.

Program Content

1) Key Points of Inbound Promotion Post Pandemic
Ms. Hatsume Nagai, Director, Singapore Office, Japan National Tourism Organization (JNTO)
2) Singapore, a destination for SMEs and local governments to expand overseas in the Pandemic era
Eiji Hisatomi, Director, Japan External Trade Organization (JETRO), Singapore Office
3) ABC HORIZON's Approach to Inbound and Outbound Business
Hiroshi Nikaido, ABC Horizon Pte. Ltd.
3) ABC HORIZON's Startup Research and Consulting Business
Akiko Tanaka, ABC Horizon Pte. Ltd.
Moderator: Osamu Nara, Managing Director, ABC Horizon Pte. Ltd.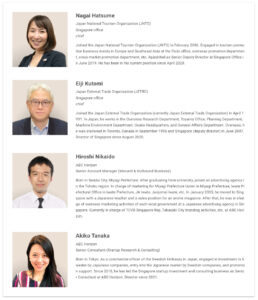 Event Details
 ~  (Opening )
• (GMT + 09: 00) Asia / Tokyo
• Held Online
The seminar is now open for registration. If you or your business would like to participate in this Closed Seminar, kindly register here .