ABC Horizon hosts 2022 Takasaki City ITAP Reception Party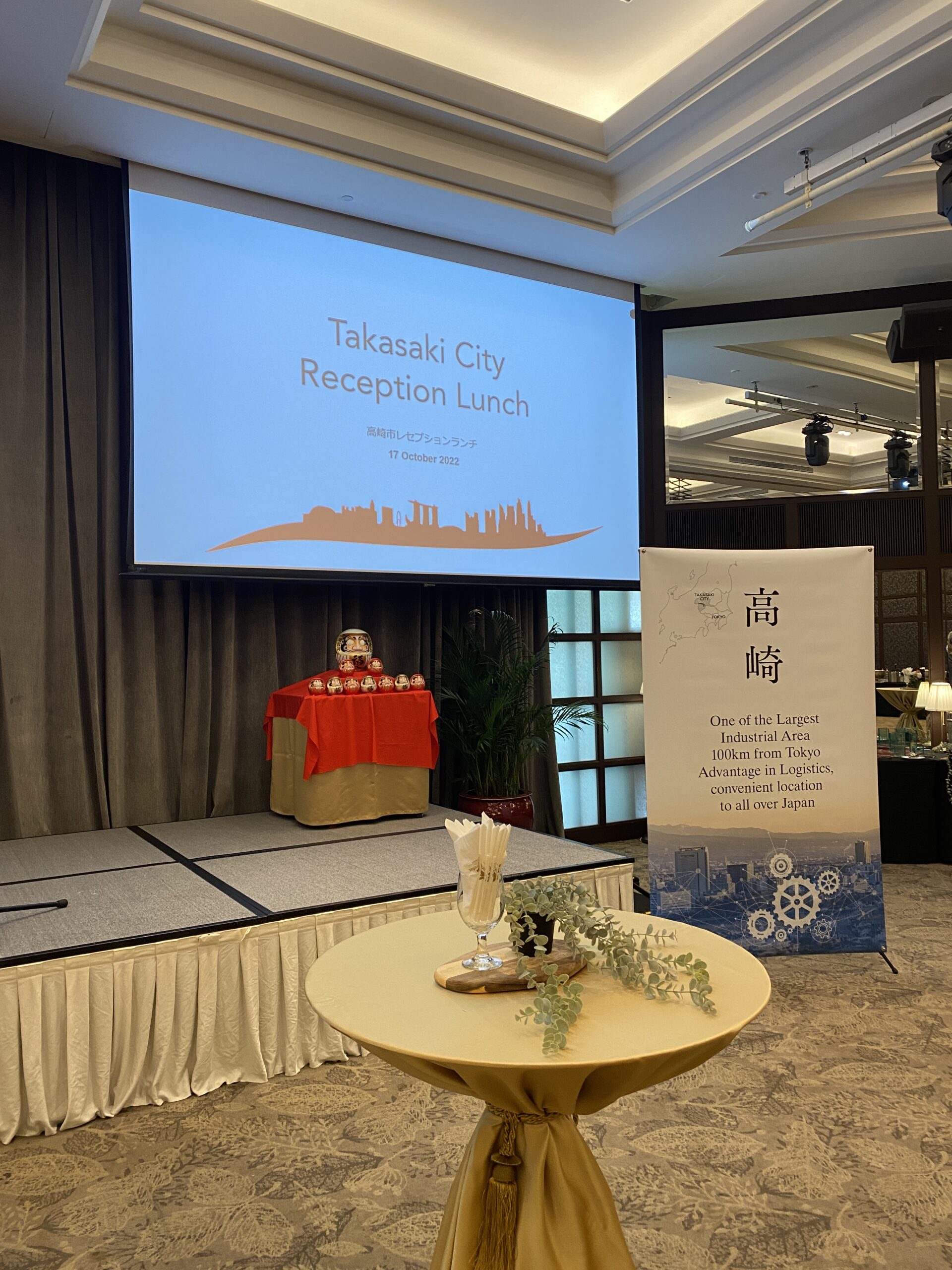 ABC Horizon is honoured to host Takasaki City's Industrial Transformation ASIA-PACIFIC (ITAP) 2022 reception lunch. Takasaki City attended ITAP 2022, held from 18-20 October to showcase its products to overseas businesses. ITAP 2022 is one of the largest industrial B2B exhibitions, with the 2022 event featuring over 15,000 attendees from over 76 different countries.
As part of its ITAP plan, on the 17th of October, Takasaki City hosted a short reception including both the city as well as its companies at Goodwood Park Hotel in Singapore to introduce the City and companies to local industries in Singapore. It also reminded attendees of the strong partnership between Singapore and Takasaki City, which began since 2016.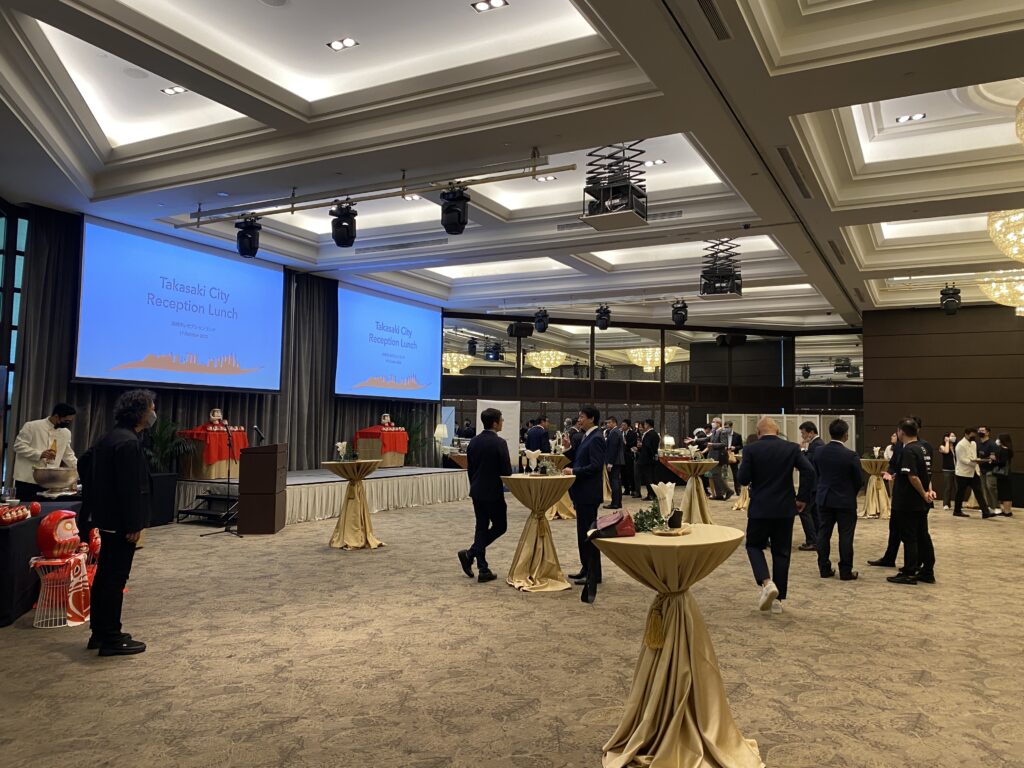 The event featured traditional performances from Takasaki's traditional craftsmen, and special menus featuring agricultural products directly from Takasaki. Media from local and overseas publications including The Straits Times, Mediacorp, and TheSmartLocal attended, as well as key members of the F&B Industry. We hope to continue our strong partnership with Takasaki City in the future!
REPORT: Dive into Food Tech In Singapore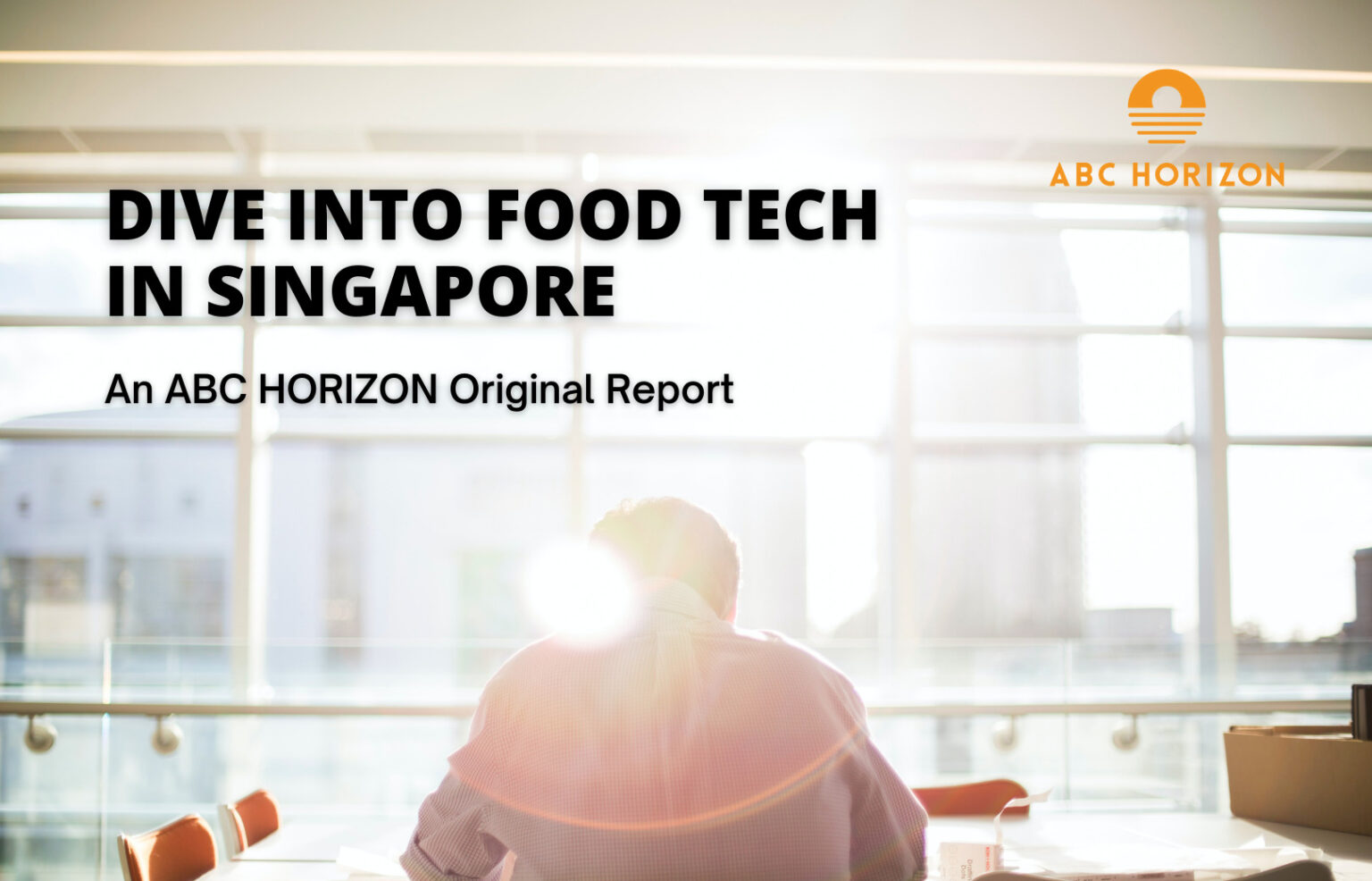 ABC Horizon is pleased to present the [Singapore FoodTech Report 2021].
With the recent pivotal position Food Tech has taken in Singapore amidst the growing attention on enhancing the country's food security, ABC HORIZON has prepared a report focusing on the areas of "next generation food production" such as Alternative Protein, Urban Agriculture, and Aquaculture.
In recent years, it has been noted that many more businesses in Singapore are undertaking changes in its food production processes to enhance performance and remain fundamentally competitive. Stay updated about the Food Tech trends in Singapore, and sharpen your position in the industry with our comprehensive list of key players – from startups, to accelerators and investors.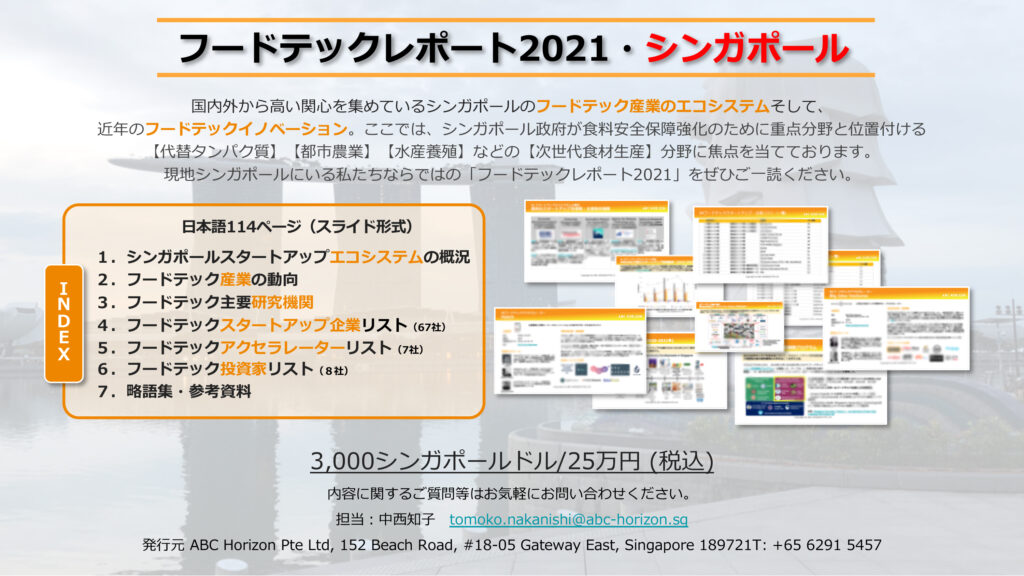 No matter if you are a business in Singapore looking to deepen your understanding of Food Tech in the local arena, or if you are based abroad looking to expand into Singapore's Food market, this report is for you.

Reach out to us for the full copy of the report and explore how we can assist you in your business' tech transition in the ever evolving landscape.
*Kindly note that the report is in Japanese language.
Asahi Broadcasting Group Regional Development Seminar – New Inbound and Outbound Strategies Post-Pandemic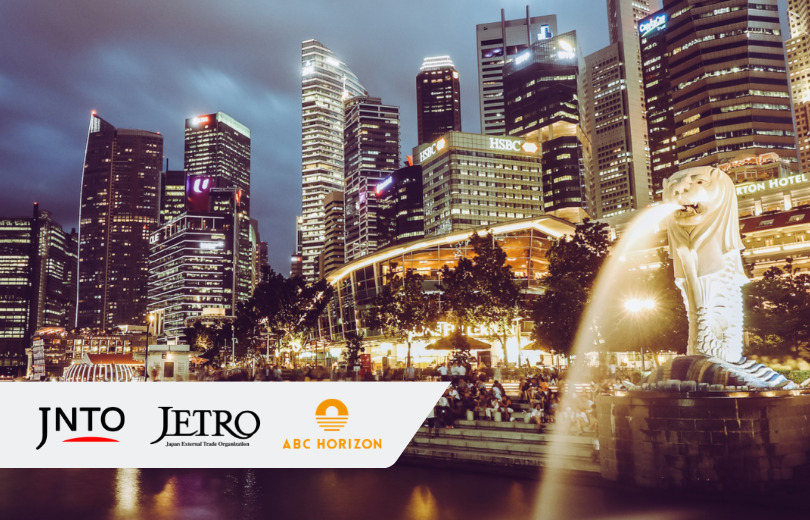 [UPDATE] Hosted on 30th June 2021, the Asahi Broadcasting Group Regional Development Seminar was an insightful discussion led by a panel of 4 brilliant individuals from Japan National Tourism Organization (JNTO), Japan External Trade Organization (JETRO), and ABC Horizon Pte. Ltd.  The session was jointly participated by almost 300 members of both private and government sectors.
We are heartened by the turnout and grateful for the support of all participating parties. For those who missed the hour-long session, the post-seminar recording can still be accessed on YouTube here .
——–
The Covid-19 Pandemic has taken its toll on many businesses across all industries – no country is spared. The Japanese society is exhausted by the after-effects of the pandemic, with many local governments forced to focus only on inward-looking policies this period Looking back on pre-pandemic, Japan's inbound industry was booming at an unprecedented rate under the government's efforts of attracting 40 million annual overseas tourists. Now, we are left to wonder: Will that enthusiasm return in the post-pandemic era?
On the other hand, while domestic consumption has been slow to recover, it has been noted that the high quality of Japanese agricultural, forestry, and marine products and foods is being reassessed with a renewed appreciation overseas. 19 state of affairs, many local governments are strengthening their outbound strategies, focusing on local products export.
In addition to diverting focus onto overseas export, some municipalities have also begun to support local startups in their overseas expansion and, conversely, to attract overseas startups into their markets. At a time when Japanese society as a whole is suffering from the pandemic, it is essential to rebuild inbound and outbound strategies in preparation for the post-pandemic recovery phase.
This seminar will feature discussions by Ms. Hatsume Nagai, Director of the Japan National Tourism Organization (JNTO) Singapore Office, which works to attract tourists from the Singapore market, and Mr. Eiji Hisatomi, Director of the Japan External Trade Organization (JETRO) Singapore Office, which supports local governments and small and medium-sized enterprises in their expansion into Southeast Asia. In addition, ABC HORIZON , the Singapore office of Asahi Broadcasting Corporation (ABC) , which has a proven track record in supporting local governments and companies in their Southeast Asian strategies, will propose new inbound and outbound strategies it will be focusing on.

Program Content

1) Key Points of Inbound Promotion Post Pandemic
Ms. Hatsume Nagai, Director, Singapore Office, Japan National Tourism Organization (JNTO)
2) Singapore, a destination for SMEs and local governments to expand overseas in the Pandemic era
Eiji Hisatomi, Director, Japan External Trade Organization (JETRO), Singapore Office
3) ABC HORIZON's Approach to Inbound and Outbound Business
Hiroshi Nikaido, ABC Horizon Pte. Ltd.
3) ABC HORIZON's Startup Research and Consulting Business
Akiko Tanaka, ABC Horizon Pte. Ltd.
Moderator: Osamu Nara, Managing Director, ABC Horizon Pte. Ltd.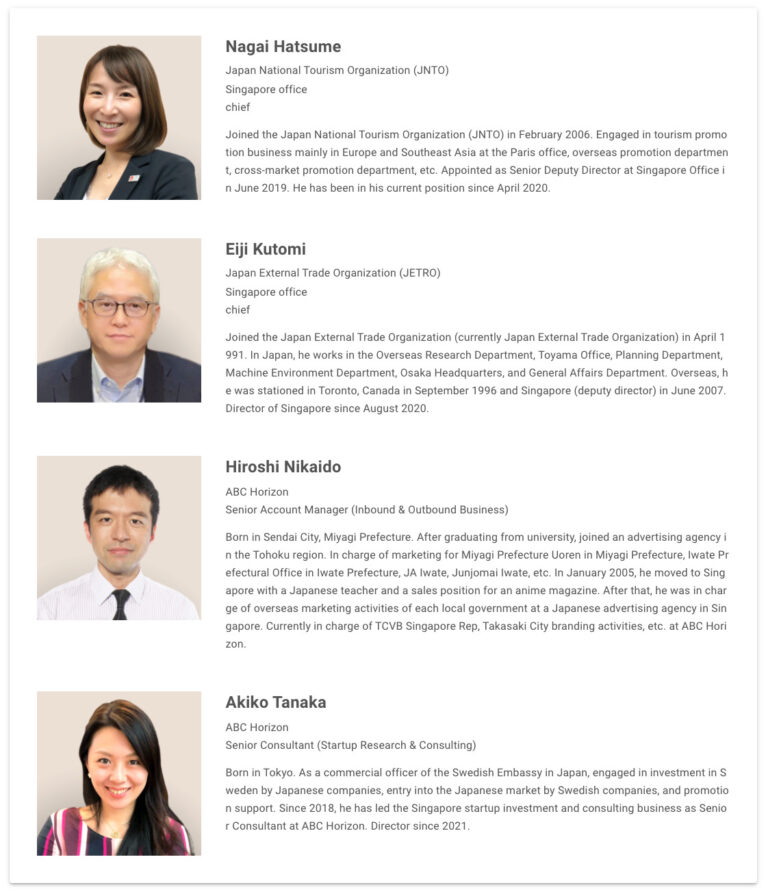 Event Details
• 2021/06/30 (Wed) 14:00 ~ 15:30 (Opening 13:50)
• (GMT + 09: 00) Asia / Tokyo
• Held Online
The seminar is now open for registration. If you or your business would like to participate in this Closed Seminar, kindly register here .
Website Refreshed – A New Look and Re-inspired Take on Solutions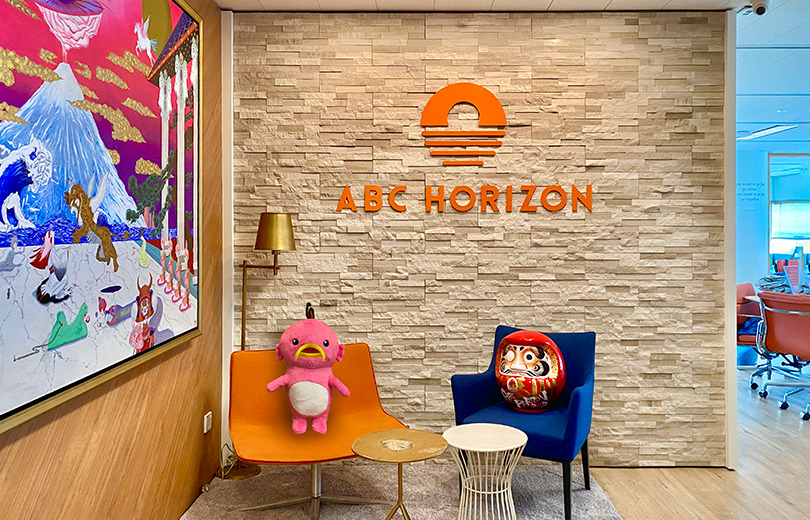 Ushering in the new year, ABC Horizon takes on a whole new look for its corporate site.
With a cleaner, simpler and more modern look, our vision for our site aligns with our brand and business aspirations and beliefs – to provide transparent, well-defined and effective service to our partners and clients.
This new site is targeted to be user-centric and provide an easy yet seamless surfing experience for visitors. Together with our fresh new appearance, we hope to continue bringing you forefront solutions that intrigue and inspire in years to come!
Feel free to reach out to the team to explore opportunities to take your business forward.