ABC Horizon is pleased to present the [Singapore FoodTech Report 2021].

With the recent pivotal position Food Tech has taken in Singapore amidst the growing attention on enhancing the country's food security, ABC HORIZON has prepared a report focusing on the areas of "next generation food production" such as Alternative Protein, Urban Agriculture, and Aquaculture.

In recent years, it has been noted that many more businesses in Singapore are undertaking changes in its food production processes to enhance performance and remain fundamentally competitive. Stay updated about the Food Tech trends in Singapore, and sharpen your position in the industry with our comprehensive list of key players – from startups, to accelerators and investors.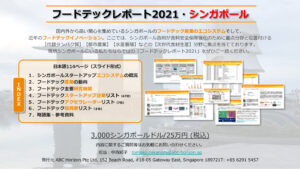 No matter if you are a business in Singapore looking to deepen your understanding of Food Tech in the local arena, or if you are based abroad looking to expand into Singapore's Food market, this report is for you.

Reach out to us for the full copy of the report and explore how we can assist you in your business' tech transition in the ever evolving landscape.
*Kindly note that the report is in Japanese language.