Asahi Broadcasting Group Regional Development Seminar – New Inbound and Outbound Strategies Post-Pandemic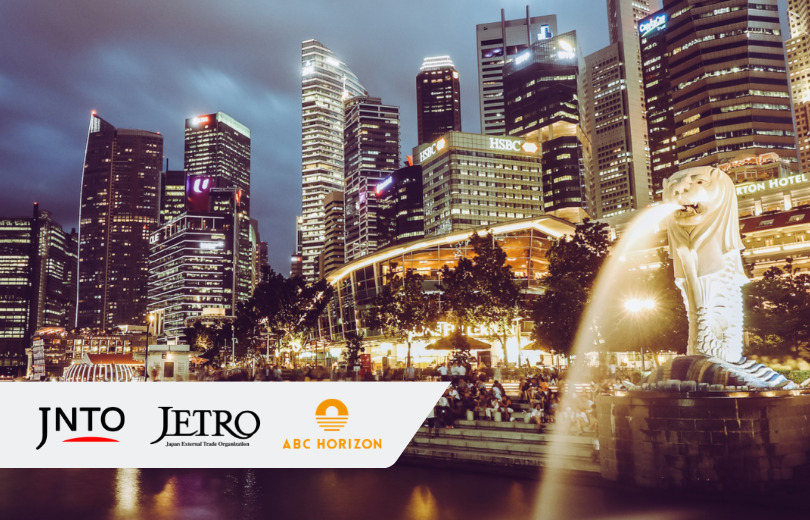 [UPDATE] Hosted on 30th June 2021, the Asahi Broadcasting Group Regional Development Seminar was an insightful discussion led by a panel of 4 brilliant individuals from Japan National Tourism Organization (JNTO), Japan External Trade Organization (JETRO), and ABC Horizon Pte. Ltd.  The session was jointly participated by almost 300 members of both private and government sectors.
We are heartened by the turnout and grateful for the support of all participating parties. For those who missed the hour-long session, the post-seminar recording can still be accessed on YouTube here .
——–
The Covid-19 Pandemic has taken its toll on many businesses across all industries – no country is spared. The Japanese society is exhausted by the after-effects of the pandemic, with many local governments forced to focus only on inward-looking policies this period Looking back on pre-pandemic, Japan's inbound industry was booming at an unprecedented rate under the government's efforts of attracting 40 million annual overseas tourists. Now, we are left to wonder: Will that enthusiasm return in the post-pandemic era?
On the other hand, while domestic consumption has been slow to recover, it has been noted that the high quality of Japanese agricultural, forestry, and marine products and foods is being reassessed with a renewed appreciation overseas. 19 state of affairs, many local governments are strengthening their outbound strategies, focusing on local products export.
In addition to diverting focus onto overseas export, some municipalities have also begun to support local startups in their overseas expansion and, conversely, to attract overseas startups into their markets. At a time when Japanese society as a whole is suffering from the pandemic, it is essential to rebuild inbound and outbound strategies in preparation for the post-pandemic recovery phase.
This seminar will feature discussions by Ms. Hatsume Nagai, Director of the Japan National Tourism Organization (JNTO) Singapore Office, which works to attract tourists from the Singapore market, and Mr. Eiji Hisatomi, Director of the Japan External Trade Organization (JETRO) Singapore Office, which supports local governments and small and medium-sized enterprises in their expansion into Southeast Asia. In addition, ABC HORIZON , the Singapore office of Asahi Broadcasting Corporation (ABC) , which has a proven track record in supporting local governments and companies in their Southeast Asian strategies, will propose new inbound and outbound strategies it will be focusing on.

Program Content

1) Key Points of Inbound Promotion Post Pandemic
Ms. Hatsume Nagai, Director, Singapore Office, Japan National Tourism Organization (JNTO)
2) Singapore, a destination for SMEs and local governments to expand overseas in the Pandemic era
Eiji Hisatomi, Director, Japan External Trade Organization (JETRO), Singapore Office
3) ABC HORIZON's Approach to Inbound and Outbound Business
Hiroshi Nikaido, ABC Horizon Pte. Ltd.
3) ABC HORIZON's Startup Research and Consulting Business
Akiko Tanaka, ABC Horizon Pte. Ltd.
Moderator: Osamu Nara, Managing Director, ABC Horizon Pte. Ltd.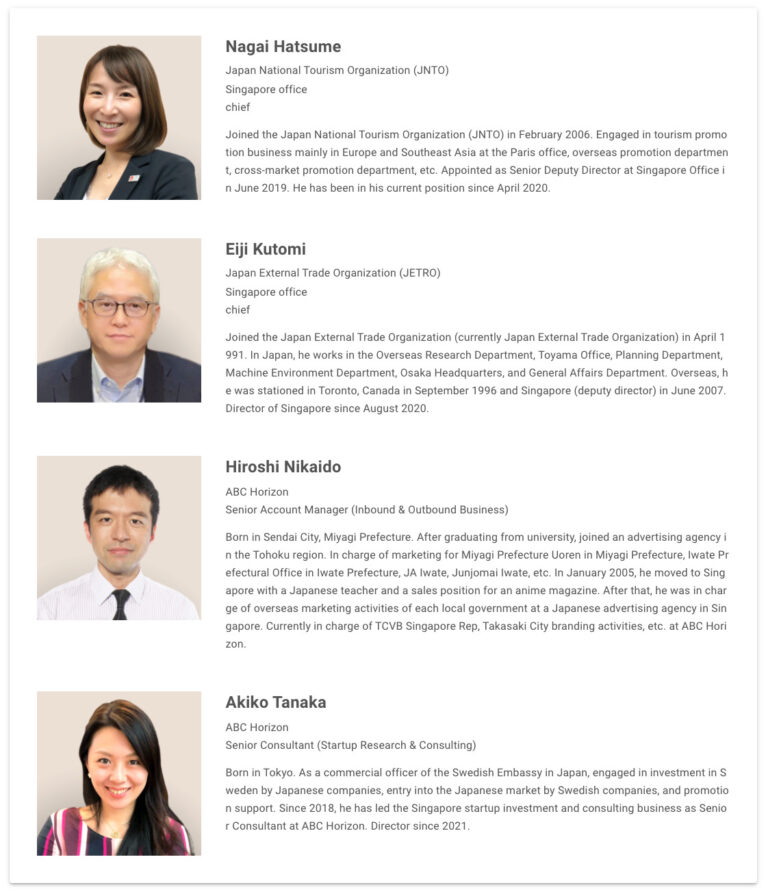 Event Details
• 2021/06/30 (Wed) 14:00 ~ 15:30 (Opening 13:50)
• (GMT + 09: 00) Asia / Tokyo
• Held Online
The seminar is now open for registration. If you or your business would like to participate in this Closed Seminar, kindly register here .
ABC HORIZON undertakes Position as Tokyo Conventions & Visitors Bureau SG Representative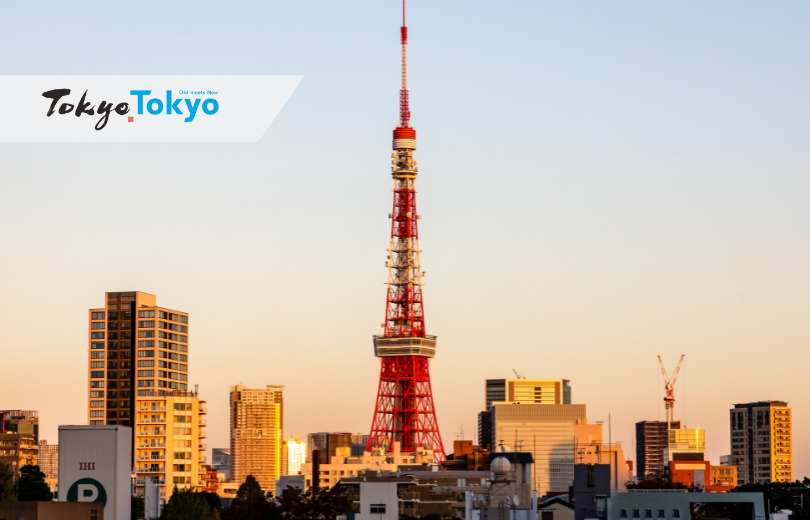 In April 2021, ABC HORIZON officially undertook the title of Singapore Office Representative for Tokyo Conventions & Visitors Bureau. The team of Team Leader Koshi Nikaido and Project Managers Tomoko Nakanishi and Jasmine Tan.
As the Singapore representatives of Tokyo city, our team undertakes the main responsibility of promoting Tokyo as a top tourist destination to Singaporeans. We strive to complement the overall marketing of the city and position ourselves as a central point of support in the local travel industry.
Following the appointment of the new role, our team plans to work closely with travel partners and agents to deliver the consistent promotion of Tokyo city. We have connected with several Travel partners to explore potential collaboration opportunities post-pandemic. The safety of all consumers and Their preferred accessibility to Tokyo related information remain a top priority in our work. Thus, it was a natural decision that our current plans gravitated towards strengthening Tokyo's presence online.
Some of the collaborative efforts with regard to beefing Tokyo's visibility online revolves around delivering a strong, convenient digital experience for the Singapore market.
In line with this angle, TokyoJalanJalan has also recently included an expansive Outdoor-focused category of content. This is geared towards providing relevant travel bites to concerned travelers regarding the typically high-density of Tokyo city. Although nature and scenery may not be at the top of most of our minds when we think of Tokyo, we are excited to introduce a new side of the city in our upcoming plans!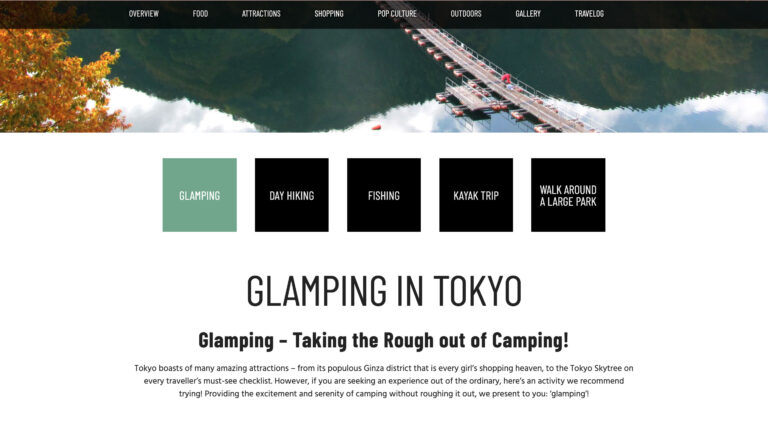 Despite events mostly being put on hold, our team is still keeping open discussions for potential scaled-down onsite events. If you are in the Travel / Media industry and would be keen to work with us in the promotion of Tokyo city, kindly drop us a message .
ABC Dream Ventures Invests in Chikaku, an Age Tech company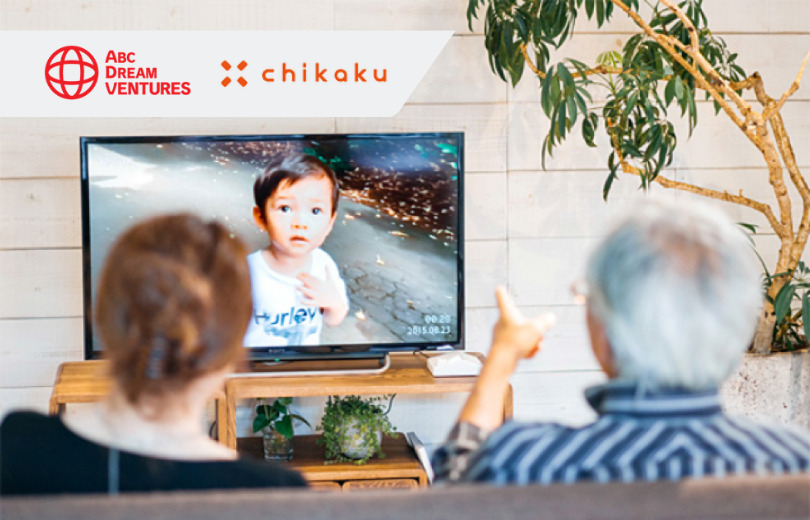 Helmed by President Goro Ishizaki, ABC Dream Ventures, Inc., recently invested in Chikaku Corporation. Chikaku is an age tech company that develops elder-centric solutions, promoting DX (Digital Transformation) for the elderly.
Through its venture investment fund – ABC Dream Fund No. 2 Investment Business Limited Partnership, ABC Dream Ventures, Inc. made the investment. It is proud to propel Chikaku Corporation in developing Mago Channel, a smartphone-to-Television content sharing service. Mago Channel enables users to directly send videos and photos via smartphone applications to their parents or grandparents' TV sets. This in turn simulates the experience of living together with family for the elderly, who may live apart from family.
This service is in line with Chikaku's mission of "Seniors First" and is strongly supported by a growing number of users, those age 50 to over 100 years old. The growth of Mago Channel has also tripled over the past year.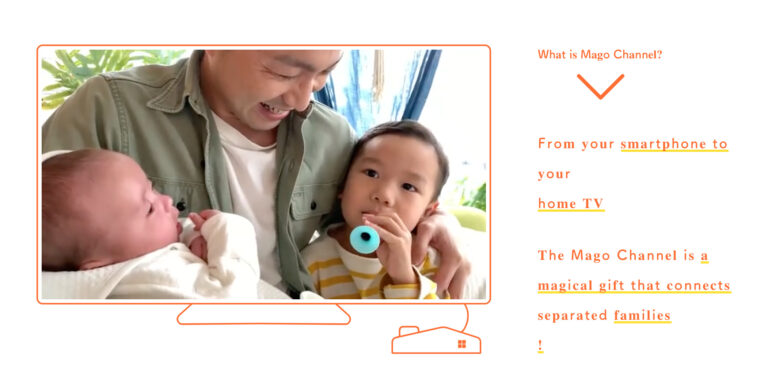 Future Collaboration
An extension of TV functions, Mago Channel has the potential to develop varied services in the future, such as monitoring of the elderly, travel content, and e-commerce. ABC Group will continue to develop new services that enrich the lives of the elderly by seeking collaborations between existing businesses and Chikaku.
ABC Horizon recognises and believes the future lies in deep-tech solutions, hence is always on a lookout for potential partnerships. Here are some of the recent collaborations we have embarked on in the deep tech arena, namely with Brainpool and Sentient.
Website Refreshed – A New Look and Re-inspired Take on Solutions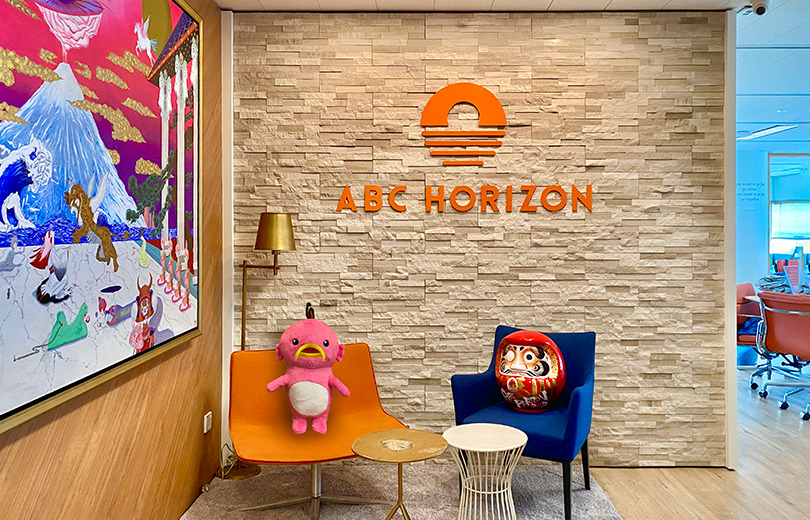 Ushering in the new year, ABC Horizon takes on a whole new look for its corporate site.
With a cleaner, simpler and more modern look, our vision for our site aligns with our brand and business aspirations and beliefs – to provide transparent, well-defined and effective service to our partners and clients.
This new site is targeted to be user-centric and provide an easy yet seamless surfing experience for visitors. Together with our fresh new appearance, we hope to continue bringing you forefront solutions that intrigue and inspire in years to come!
Feel free to reach out to the team to explore opportunities to take your business forward.
The Asahi Broadcasting Group and Quan – Business Alliance in Southeast Asia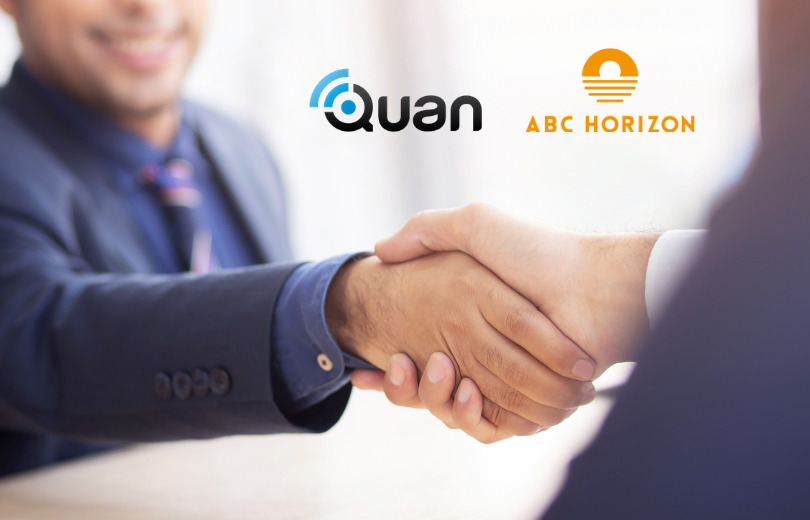 The Asahi Broadcasting Group and Quan have started character-based marketing support for companies in Southeast Asia
Asahi Broadcasting Group's ABC HORIZON PTE.LTD. (Location: Singapore Representative: Osamu Nara, hereinafter ABC Horizon) and Quan Co.Ltd. (Location, Shinjuku-ku, Tokyo: President and Representative Director: Kazuhiro Mizuno (hereafter Quon) formed a business alliance as of August 18 2020.
Through the strategic utilization of the popular character of Quan, this alliance aims to support the marketing activities of companies with remarkable economic growth in Southeast Asia such as Thailand and Vietnam, which have entered or are considering expanding into Japan.
Background of the Business Alliance
Originating from the Asahi Broadcasting Group, ABC Horizon is a team geared with knowledge and competence in both the domestic and international business arena, situated in Singapore. ABC Horizon has been active in supporting Japanese companies entering the Southeast Asian market, and businesses expanding into Japan, contributing to the overall advancement of the Japanese market.
Quan on the other hand, possesses well-recognized characters in both Japan and Southeast Asian countries, developing "stickers" on chat services such as LINE, and distributing video content on SNS, to support its clients' marketing activities involving the employment of its characters. Notably in Vietnam, downloads of Quan's original character "stickers" across Facebook Messenger and local chat service "Zalo", has exceeded 450 million as of May 2020.
Brought together with the common goal of supporting the expansion of local services by Japanese companies and administrative agencies in Southeast Asian countries, capabilities were pooled together and a business alliance between the 2 companies was formed.
Details of the Business Alliance
(1) Marketing support of local corporation
"Zalo" – a chat application developed by Vietnamese IT company VNG, is used by over 70% of Vietnamese, and has become an indispensable tool for communication in the local community. To effectively communicate and build relationships with users (consumers) , "Zalo" has quickly seen itself transition into an essential tool in corporate marketing activities. In this social space, ABC Horizon and Quan support businesses' SNS marketing efforts by activating communication between the brands and users through continuously transmitting "stickers" and content that uses its characters.
(2) Support of Content Marketing through SNS
As the usage rates and popularity of Facebook, Instagram, and YouTube soar across Southeast Asian countries, we recognise the need and are able to support the content marketing activities on these SNS platforms.
(3) Marketing Support through Offline Measures
In the event that an on-site event is hosted, we will support offline marketing of the brand through the usage of Quan's original characters' mascots where needed.
For more information on this recent partnership and to learn more about Quan's proven effectiveness in its character employment as a marketing tool, please view the official press release below.